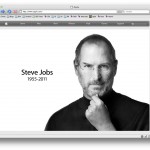 Today, we saw this:
Its a sad day. Steve gave us so much in the 56 years he was here: Apple Computer, the Mac, Mac OS X, the iPod, the iPhone, the iPad. We are all greatly in his debt for his vision over the years. My username on the net is apple4ever for a reason.
Its not fair, to lose someone so great. But death comes for us all.
As he said in this great speech:
"Remembering that you are going to die is the best way I know to avoid the trap of thinking you have something to lose."- Steve Jobs
Goodbye Steve.